The Help You Need in Any Family Law Matter
Guiding your family through complicated legal issues can be a challenging task to face alone. When family law issues arise, your family's very well-being may be on the line, leading to the need for an experienced lawyer who will protect you and help you find the resolutions and closure you need to move on with your life.
We focus on divorce and high-conflict custody matters
and provide experienced and caring attention to
YOUR family's needs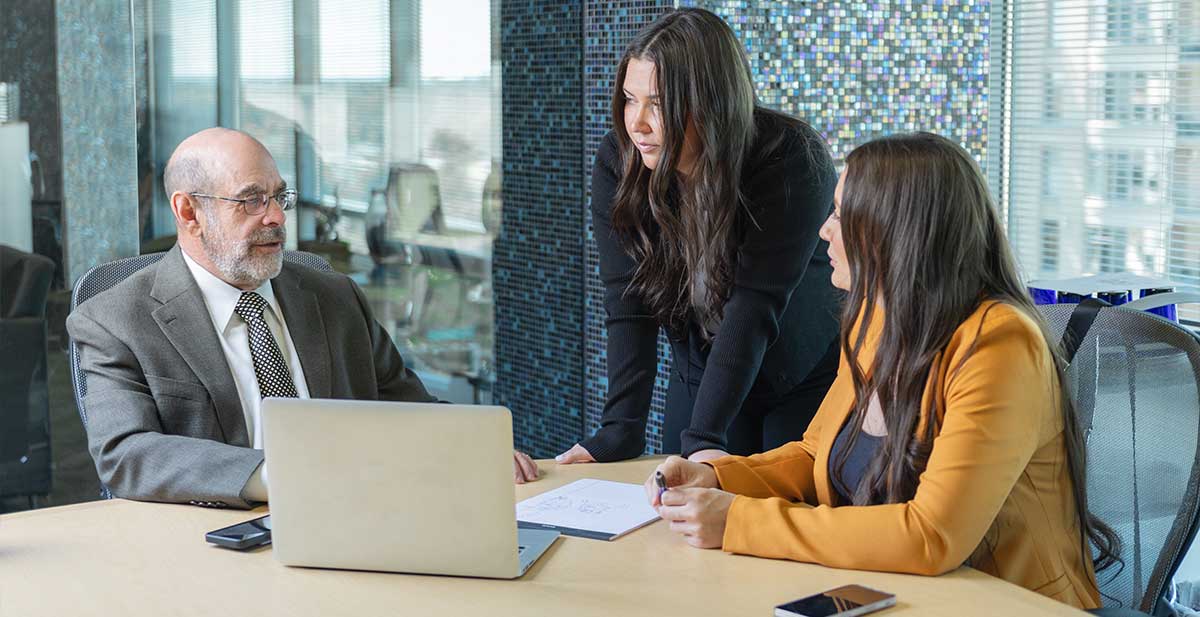 At Frank Amar Matura, our attorneys, Gary Frank, Hanna Amar, and Logan Matura, are strong and committed advocates who offer to care and compassionate family law assistance to clients in the Phoenix Metro area. With a focus on your family's legal, emotional, and financial well-being, we work diligently to help you find the affordable and efficient resolutions you deserve, all in an effort to help you get on with your life.
---
Maricopa County Divorce Attorneys Handling All Areas of Family Law
We have a great deal of experience in all areas of family law, and we are able to assist with a wide variety of family law matters.
We are located in the prestigious Biltmore area in Phoenix, with satellite offices throughout the Valley in order to serve you better.
To discuss your specific family law matters with our Phoenix child custody attorneys and family lawyers, contact our office online or call us personally at 602-922-9989 today.
Finding the Best Resolution for You and Your Family
Our firm truly cares about the welfare of every family and client that we represent. We understand that you are experiencing a confusing and emotionally difficult situation, and we work diligently to answer your questions and address your issues as quickly and effectively as possible. We hope to offer you peace of mind in knowing that your best interests are being looked after and protected throughout our service to you. To that end, we offer all our clients the following:
Assertive advocacy for your protection
Caring and focused representation
Emotional and legal support
Experienced mediation guidance
Extensive trial experience
Extensive experience as a negotiator
Direct contact with our attorneys, including his personal cell phone number
Round-the-clock attention to your questions and concerns
Insightful advice from our attorney Gary Frank, who has decades of experience as a courtroom litigator and served for many years as a judge pro tem, filling in for Family Court judges in the Maricopa County Superior Court; from Hanna Amar, who is a skilled litigator and a top-notch negotiator, and who has received the designation as a 'Super Lawyer'; and from Logan Matura, a skillful litigator and passionate negotiator who has experience working in Family Courts, both as an attorney in Arizona and, before that, as a law student in New York.
A dedicated and strong advocate for your children's best interests
Personal attention to your specific needs
Affordable fees with the option to pay with major credit cards

---
Preparation and Customer Service Sets Us Apart
Gary J. Frank has been a highly successful family law litigator and mediator in Arizona for more than 30 years. That success can be attributed to his power of persuasion and the careful preparation that he puts into each and every one of his family law cases.
Hanna E. Amar is a skilled litigator and a trained mediator. What drives her is compassion for her clients and an overriding desire to safeguard their interests. Hanna cares about families, and she is an advocate for children. She will stand strong to protect her clients and fight for their rights.
Logan Matura combines empathy, excellent writing skills, and strong advocacy to provide top-notch representation for her clients. Having clerked for a Family Court judge in the Bronx, NY, while in law school gave her an insight into Family Law and the inner workings of Family Court that most lawyers never experience. She uses that knowledge to provide her clients with expert advice and guidance.
Gary, Hanna, and Logan understand that people going through a contested divorce or custody dispute are experiencing the most difficult time in their lives — emotionally, financially, and in every other way. Clients need a strong, honest advocate who will work hard to protect their rights and achieve positive results. They take that responsibility very seriously.
No two divorce or custody cases are alike. Our firm develops a comprehensive case plan tailored to the needs of each individual client. We view the attorney-client relationship as a team effort, and we communicate with the client regularly to discuss case strategy and decision-making. Throughout the course of the case, our attorneys will take the necessary steps to ensure that all bases are covered. This may include pre-trial discovery tools such as document demands, subpoenas, interrogatories, or depositions. We also have a variety of experts at our disposal to assist in custody evaluations, asset searches, real estate appraisals, financial planning, division of businesses and property, and other important matters. If discovery or the use of experts becomes necessary or advisable, we will first discuss the matter with the client to ensure that he or she understands why these measures are important and how they can be beneficial. "Many lawyers fail to communicate the case plan and strategy to their clients or seek their input," says Gary Frank. "But I have found that working closely with the client greatly increases the chances of achieving a positive outcome in any divorce or custody case."
Skillful case planning. Thorough preparation. Customer service.
These are what separate the experienced and successful family law litigator from the rest of the pack.
You don't have to face your divorce, custody, support, or other legal dispute alone. Contact our Arizona family law office or call us personally at 602-922-9989 to learn how we can be of assistance.
Client Reviews
---
Family Law Client
I had a very legally and emotionally difficult case and was fortunate enough to have Mr. Frank's legal assistance. Mr. Frank was extremely professional, reliable, and competent. He always kept me informed of my case, and he gave me great legal insights. His litigation expertise and easy disposition allowed me to be comfortable and less stressed considering the situation. Mr. Frank always treated me with respect and valued my input. I felt part of a collaborative effort rather than the usual attorney-client relationship. It was a pleasure working with Mr. Frank, and I would most definitely recommend him to my friends and family.
I would recommend your services to anyone!
I am very satisfied for all you have done for me throughout my divorce and custody cases. You listened to what was important to me and you made it your number-one priority. The safety of my children meant the world to me and you helped me keep them safe. You are excellent in the courtroom. Throughout all of my court cases and different issues with my ex-husband, you helped me stay calm and grounded. I believe in our justice system since I was lucky enough to have an amazing attorney. Mr Gary Frank, you were a godsend in many ways, and every time I look at my children and know they're safe I thank God for finding such a great attorney. I would recommend your services to anyone! Thank you once again for all your hard work.
Francesca
I feel re-born!
"I can't tell you how much I am now enjoying my life. It sounds crazy, but I feel re-born! Of course, I have my days, but they are fewer and fewer. I spend time with family and friends and for the first time in seven plus years, I feel alive and well. I will never be able to thank you enough for all your caring and encouragement throughout this extremely stressful and challenging time in my life. I could not have managed to get through it without your support."
Noel
A Lawyer That Cares
I chose Hannah to represent me because I know she personally invest herself into each and every client. I could tell she really cared and was ready to fight for me. When I called to schedule for a consult, Hanna received the phone call, not some lawyer's assistant or front desk person. She has gone above and beyond what was asked of her. She knows what she's doing. Thank you so much Hanna!
Jonathan
Excellent Lawyer!!!
I was going through a family court case & did not have a lawyer. I needed help filling out paperwork & knowing what to do in court. Mr. Frank met with me on several occasions & helped with properly filling out all of my paperwork & informing me of the correct way to file it. He gave me his cell phone # & always returned my calls promptly.
DANA
Divorce Lawyer
Gary was recommended to me by a relative. I was in a long-term abusive marriage and had had enough and was ready to put an end to it. while being "ready" I was scared to death as I was someone with low self-esteem and so afraid of how my Ex would respond. Gary gave me the courage to stand up for myself and helped me work thru my insecurities so that I was able to testify in court and breath. He walked me through all the steps of what we were going to do so that I understood. he was always ready to answer any questions/concerns I had in a timely manner (and I had a lot). I have recommended Gary to several friends going thru a divorce and I will continue to do so. I can't thank him enough for his help and what he has done for me.
Annette
When you need better than the best
It is all about passion. Whether you play baseball, run a bakery, or practice law, you will do it better if you have passion. Hanna has that passion. She helped guide me through my trying times during my divorce and custody case. Her impeccable professionalism, humanity, and understanding as well as being tough enough to get things done were beyond what I could ever hope for. I couldn't ask for a better attorney than Hanna. She not only cared about me, she also cared about the well-being of my daughter. I would highly recommend her to anyone.
Susan
Angels
Gary and Hanna are the most amazing and compassionate attorneys in AZ. They go above and beyond and would highly recommend them to anyone! They work with you and actually care about the well being of your children vs. Money (unlike most others). I cannot thank them enough for what they have done for my own family. Angels.
Erin
Thanks From A Confident Dad
Gary, I see your LinkedIn posts every now and then and just wanted to send you a quick note.  Wow, the last 6 years have been a whirlwind.  I just want to thank you again for the support and guidance you provided to me 6 years ago.  It has made a monumental difference in my life. My son's mother and I made the mutual decision to move (out of state) about a year and a half ago.  Ironically, we live in the same neighborhood now, we've got our parenting plan at about 50% time each, and we walk him to school.  We get along, and it honestly can't be any better.  My son is now in 1st grade, and he has a brother who is a year and a half.  In the past 6 years, I've evolved from the scared, immature, insecure person who sat in your office to a confident father of two boys.  Your input and guidance had a lot to do with that, so, thank you.  I do miss Arizona – in due time, hopefully, I'll be back.
Family Law Client
Successful Relocation Case
To say I am grateful would not be giving you guys enough credit. I am humbled to have found you and blessed beyond words.
Family Law Client
I Know In My Heart I Chose The Right Attorneys To Represent Me
I appreciate all of you and all that you have done on my behalf. Most of all, I appreciate all of your moral support and your faith in me and my intentions. I know in my heart that I chose the "Right Attorneys" to represent me. I am happy that I chose wisely and trusted my heart & my 'gut instinct.'
Valerie
Very Honest
November 2009 I retained Mr. Frank for almost two years to represent me in a visitation modification filed by my ex-husband. Mr. Frank quickly and efficiently became familiar with my case and was very honest about all the potential results that could occur. I truly feel that Mr. Frank had my children's best interests in mind…
Judy K