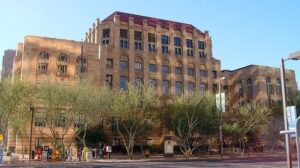 There's a new bill on the horizon in the Arizona legislature that every parent should be aware of — a law currently being considered by our legislators which could create havoc in Family Court cases involving parenting-time and legal decision-making authority of children.
The law seeks to modify Arizona Revised Statute, Section 25-403. That statute contains a number of factors the Superior Court judges use in custody cases to determine which parent should have legal decision-making authority, and what kind of parenting plan is in the best interests of the children. The purported goal of the proposed law is to give children a voice in Family Court. But they already have a voice. Instead, this law would put them in charge.
WHAT THE EXISTING LAW PROVIDES
Here's the issue: A.R.S. §25-403(A)(4), as it is currently worded, states:
The court shall consider all factors that are relevant to the child's physical and emotional well-being, including:
If the child is of suitable age and maturity, the wishes of the child as to legal decision-making and parenting time.
Therefore, the law as it exists today allows minor children to have a voice. Children can, but almost never are, called to testify for or against a parent in a Family Court case. More commonly, the Court will appoint an expert (usually a psychologist or licensed counselor) to interview the child, the parents, and others, and submit a report to the judge with the expert's findings and recommendations. In this way, a child can express his/her preferences, opinions, and/or concerns without being thrust right into the middle of the parents' dispute.
However, all that will change with the passage of the proposed law.
WHAT THE NEW PROPOSED LAW STATES
The new law changing A.R.S. §25-403(A)(4) reads, in part:
The court shall consider all factors that are relevant to the child's physical and emotional well-being, including:
The wishes of the child as to legal decision-making and parenting-time. IF THE CHILD IS AT LEAST FOURTEEN YEARS OF AGE AND IS SUFFICIENTLY MATURE SO THAT THE CHILD CAN INTELLIGENTLY AND VOLUNTARILY EXPRESS A PREFERENCE FOR ONE PARENT, THE CHILD HAS THE RIGHT TO SELECT THE PARENT WHOM THE CHILD CHOOSES REGARDING CUSTODY AND PARENTING TIME. THE CHILD'S SELECTION IS CONSIDERED PRESUMPTIVE UNLESS THE COURT DETERMINES THAT THE CHILD'S WISHES ARE NOT IN THE BEST INTEREST OF THE CHILD. IF THE CHILD IS UNDER FOURTEEN YEARS OF AGE BUT IS OF SUITABLE AGE AND MATURITY, THE COURT SHALL STRONGLY CONSIDER THE CHILD'S WISHES REGARDING CUSTODY AND PARENTING TIME UNLESS THE COURT DETERMINES THAT THE CHILD'S WISHES ARE NOT IN THE BEST INTEREST OF THE CHILD. (Emphasis added.)
THE EFFECT OF THE NEW LAW, IF PASSED
This proposed law is fraught with problems. The ramifications of this new law, if passed, will be far-reaching and should be frightening to any parent. Placing the decision in the hands of children to choose which of their parents will have legal decision-making authority, and what the parenting-time arrangement will be, is a potentially dangerous proposition for all concerned, especially the children.
TEENS' BRAINS ARE NOT YET FULLY DEVELOPED:
Any parent knows that teens and younger children can be emotional, at times irrational; and easily manipulated. It's not their fault, it's just part of being a kid. This is especially true for children whose lives have been upended by their parents' divorce or separation. How many separated or divorced parents have heard a child complain that the parent is  being "mean" for setting reasonable limits? How many moms have heard an angry child shout, "I'd rather live with Dad! He doesn't make me do chores or have all these unfair rules, like you do!" – How many Dads have listened to their son or daughter yell, "Then I'll just go live with Mom! She's not as strict as you are!" Children in the midst of their parents' divorce often prefer the parent who has less rules, and is lax in enforcing them. It is not uncommon for children whose mom and dad are divorcing to try to manipulate their parents and pit them against each other, not because the children are bad or incorrigible, but because they are kids – their brains aren't yet fully developed.
An article entitled "Understanding the Teen Brain," in the University of Rochester Medical Center Health Encyclopedia, explains: "The rational part of a teen's brain isn't fully developed and won't be until age 25 or so. In fact, recent research has found that adult and teen brains work differently. Adults think with the prefrontal cortex, the brain's rational part. This is the part of the brain that responds to situations with good judgment and an awareness of long-term consequences. Teens process information with the amygdala. This is the emotional part. . . .  In teens' brains, the connections between the emotional part of the brain and the decision-making center are still developing—and not always at the same rate. That's why when teens have overwhelming emotional input, they can't explain later what they were thinking. They weren't thinking as much as they were feeling." (See:University of Rochester Article.)
In a separate article published in Harvard Medical School, News & Research, the author writes:  "The prefrontal cortex matures last, not finishing until after age 25. That means that executive functions such as reason, long-range planning and impulse control aren't fully operational during adolescence." (See Harvard Medical School Article, 2014)
Thus, there is a very real danger that a child's or teenager's decision regarding which parent they want to live with and who should be responsible for making decisions could be partly, or even entirely, driven by anger and emotion, instead of rational thinking.
WHAT IS A LEGAL PRESUMPTION, AND WHAT EFFECT DOES IT HAVE?
The new proposed law states that "The child's selection is considered presumptive . . ." What does that mean? It means the judge must assume that the child's decision is correct and that it must be followed, unless the other parent can provide convincing evidence that it is not in the child's best interest. This is no easy task. And, worse yet, attempting to provide that proof will pit the parent against his or her own child.
PROPOSED CHANGE TO A.R.S. §25-405 is
A.R.S. §25-405 provides that in a Family Court case, a judge has the discretion to interview the child in chambers (the judge's office) and/or to seek the advice of a professional who shall provide his/her advice to the Court in writing. This typically includes appointing an expert to interview the child and others, and to make a report with the expert's findings and recommendations as to what decision-making and parenting plan would be in the child's best interests. Some Family Court judges will agree to interview the child themselves, but only on rare occasions. However, in the vast majority of cases, the judge will appoint a psychologist or other behavioral health expert to conduct the interview and do the investigation. Mental health and child development experts are better trained and equipped to identify and deal with children's issues, which is why judges tend to rely on them.
However, this new law will make it mandatory for a judge to interview a child in chambers, upon request of the child. This could ignite an all-out war between parents, and also between a parent and their child. Not being a psychological expert, will the judge be able to ascertain if the child is there voluntarily, or whether they were pushed by a parent to appear before the judge? Deciding whether it would be helpful or hurtful for a judge to interview the child is an important one. This new law will take the decision out of the judge's hands and put it in the child's.
CONCLUSION:
Almost all experts agree that in order to protect a child's mental health, it is important for moms and dads to keep the child out of their parental disputes. However, this new law will do just the opposite. It will place the child right smack in the middle, where they are likely to be caught in the cross-fire. Obviously, there are situations where a child is being abused, neglected, or mistreated and reasonably wishes to live with a parent who provides better care – but children already have a voice under the existing law, which requires the Court to consider "the wishes of the child as to legal decision-making and parenting time if it finds that the child is of suitable age and maturity." On the other hand, this new law, if passed, will go much further. It places the decision as to legal decision-making and parenting time largely in the hands of children who, even if mature for their age, are not fully mature from a judgment and brain-development standpoint. The potential negative consequences of this law are many, and include the following:
It makes children vulnerable to pressure and manipulation by an offending parent who badgers them into taking sides;
It increases the likelihood of parental alienation;
It gives a child the power to retaliate against a parent who tries to set reasonable limits, or to discipline the child for breaking rules;
It places the child at risk of a lifetime of crippling guilt for having chosen one parent over the other in a custody dispute;
It creates the threat of long-term damage to the parent-child relationship;
It can cause parents to be afraid to set reasonable limits for fear that the child will demand to live with the other parent and the Court will take them away;
It can cause kids to go down the wrong path when their parents fail to set reasonable limits or enforce rules in the home;
It can lead to many years of expensive, contentious, ongoing litigation warfare between parents, as they return to court over-and-over again in an attempt to modify the parental decision-making and parenting-time orders; and
It ties the hands of judges by creating a legal presumption that the child's wishes must be granted unless they are proven to be contrary to that child's best interests, which is a very high hurdle from an evidentiary standpoint.
Parents who are involved in a disputed court case tend to be accepting of a judge's decision regarding parenting-time and which parent should be awarded legal decision-making authority. After all, the judge is a representative of the legal-system, and an authority figure. But how will the parents feel if their kid is allowed to make those decisions?
In our opinion, the proposed modification is more than just a very bad law. It is a potentially dangerous one – for parents, and especially for children.
By Gary J. Frank
At the law firm of Gary J. Frank P.C. our Arizona Family Law Attorneys, Gary Frank, Hanna Amar, and Logan Matura are strong litigators and compassionate Counselors. Gary Frank is a Phoenix Family Law Attorney with 40 years of experience as a litigator and mediator. he has also acted in the capacity of a Judge Pro Tempore in the Maricopa County Superior Court and served on the Governor's Child Abuse Prevention Task Force. Law firm partner, Hanna Amar, is a highly-skilled Arizona Family Law Attorney with a passion for Family Law children's issues. She has extensive courtroom experience and is also a certified Mediator. Hanna has also acted as the President of the Young Lawyers Division of the Maricopa County Bar Association, and was recently named as an elite Super-Lawyer. Associate attorney, Logan Matura, is an Arizona Family Law Attorney who received her Juris Doctor degree from New York Law School in Manhattan, NY. While in law school she served as an intern for a Family Court judge in the Bronx, NY, and was a member of the Family Attorneys Mobilizing Club. Our firm handles Family Law cases in the areas of divorce, custody (now called "Legal Decision-Making and Parenting Time), relocation (move-away), division of property, spousal maintenance and child support, modification actions, enforcement actions, grandparent, step-parent, and non-parent rights, as well as other matters pertaining to families and children. If you are in need of a consultation, call us today at  602-383-3610, or you can contact us by email through our website at www.famlawaz.com. We look forward to hearing from you.
Let's Discuss Your Case - We're Here For You.
When dealing with a family matter issue, you do not have to go at it alone. Schedule your comprehensive attorney consultation now and we can discuss the entire case.
Let's Discuss Your Case - We're Here For You.
When dealing with a family matter issue, you do not have to go at it alone. Give us a call and we can discuss the entire case during a comprehensive attorney consultation.